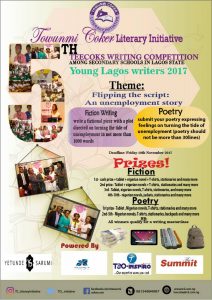 The annual Teecoks Creative writing competition is here. The theme for this year is 'Flipping the script: An Unemployment story'
Towunmi Coker Literary Initiative is dedicated to effecting needed societal changes through literature, arts and culture. Part of our program includes the Yearly Teecoks creative writing competition among high school students in Lagos state, Nigeria. Call for entries for this year which is the fifth has now begun.
Students are expected to submit entries on fiction where they are to write a creative story of not more than 1000 words in line with the theme. Or submit a work of poetry of not more than 30lines in line with the theme. We are open to submission from now (September 2017) till Friday 10th November 2017. Entries would not be received after the deadline.
TCLI expects students to submit purely original works as pliagarised works will be penalised. Schools authorities and teachers should ensure that all rules are adhered to and imbibe discipline in their students.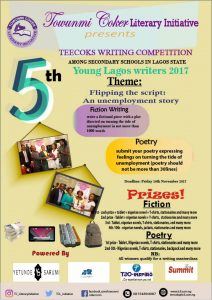 The writing competition is among students in secondary schools in Lagos state. Schools that are willing to participate and have not received any letter from us should please not hesitate to reach out to us. It will be a great delight to have you participate and we would not hesitate to send the requirement for participation to interested schools.
Past winners of the the competition include:
Fiction
– Sadiku Feyipitan Maryland Comprehensive school 2013
– Ejikeme †Chidimma Anglican Comprehensive High School 2014
– Abdulfattah †Nusaybah International School Lagos 2015
– Ibukunoluwa Addy Chrisland College Idimu 2016
Poetry
Which commenced in 2016.
– Adebogun Oluwatosin Ansarudeen College Isolo 2016