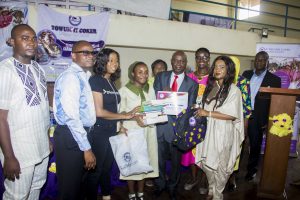 The award ceremony of 5th Teecoks Writing Competition among Secondary School Students in Lagos State organised by Towunmi Coker Literary Initiative took place on Thursday 15th February, 2018 at Agege Stadium, Agege.
In attendance were: Head of Service, Lagos State, Mrs. Folashade Adesoye (represented by Mrs. Fiyinfoluwa Ogunbanke; Permanent Secretary, Office of HOS); Tutor General/Permanent Secretary Education District I, Dr(Mrs)Olufolaymika Ayandele (represented by Mrs.F. Alabi);Tutor General/Permanent Secretary Education District IV, Mrs. O.O. Onadipe (represented by Mr.A.J.Akinyemi); Pastor (Dr) Lolu Awoliyi, Dr. Mike Aderohunmu, Mr. Raphael, (representative of Viju Industries), Mrs.Azafi Omoluabi (Co Founder, Parresia Publishing Limited), Pastor Peter Alabi, Mrs. Adaeze Umeh (representative of Diamond Bank), Principals, Teachers, students (of 87 schools, private and public), writers, gentlemen of the press and other invited guests.
The event was anchored by Mr. Richmond Osuji, renowned Master of Ceremony and started at 10.25am.
Programme of Events:
Invitation to the High Table.
National Anthem.
Words of Exaltation by Pastor Alabi.
Chairmans Speech by Dr. Awoliyi.
Lecture by Guest Speaker by Azafi Omoluabi.
Short debate among 40 schools.
Music.
Motivational talk by Dr. Mike Aderohunmu.
Speech by Dr. Towunmi Coker, founder Towunmi Coker Literary Initiative.
Presentation of Awards.
Financial Gameboard and cash prizes presentation by Diamond Bank.
The presentation of cash prizes to 3 winners in the debate and their teachers.
Music Interlude.
Till the next edition.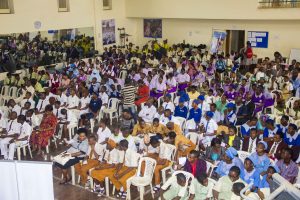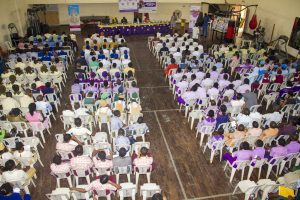 The theme of the Writing Competition was FLIPPING THE SCRIPT: AN UNEMPLOYMENT STORY. The students submitted a fictional piece of not more than 1000 words or poetry of not more than 30 lines. 147 schools, both public and private participated and 2574 entries received.
The following are the winners for the 5th Teecoks writing competition (Young Lagos Writers 2017):
FICTION
1st Prize/Overall Winner: Osumah Katherine from Maryland Comprehensive School, Maryland.
2nd Prize winner: Adesanya Oluwapelumi from Oke-Odo Senior High School, Alimosho.
3rd Prize winner: Obidi Eunice from International School, Lagos.
4th Prize winner: Okim Itohowo from Babs Fafunwa Millennium Grammar School, Ojodu.
5th Prize winner:Ezeunala Ekene Franklin from Meiran Community Senior High School.
6th Prize winner: Afunmilayo Priscilla from Christ The King School, Gbagada.
7th Prize winner: Odumosu Godsfavour from Oriwu Senior Model College, Ikorodu.
8th Prize winner: Chinchem Oluchi from Ajao Estate Senior Grammar School, Ajao Estate.
9th Prize winner: Olaonipekun Tomiwa from Babs Fafunwa Millenium Grammar School, Ojodu.
10th Prize winner: Nze Amanda fromMaryland Comprehensive School, Maryland.
POETRY
1st Prize winner: Omotayo Tomiwa from Maryland Comprehensive School, Maryland.
2nd Prize winner: Atoda Akpezi Blessing from Diary Farm Senior Secondary School, Agege.
3rd Prize winner: Ezeokeh Chelsea from Holy Child College,Ikoyi.
Three students were awarded for poetry although the initiative aimed to award the best five, but based on the quality of entries, the judges found only three worthy of the prizes.
Towunmi Coker Literary Initiative highly appreciates the contribution of Lagos State Government, Head of Service Lagos State, Permanent Secretary Lagos State Ministry of Education, Tutor Generals/Permanent Secretaries of Education Districts I, II, IV&VI, Parresia Publishers Limited, Diamond Bank, Teo Inspiro, SparkleWriters, Viju Industries, YS, Our wonderful Judges and 7up in making this event a huge success.