Second Prize winner 2015 Teecoks writing competition; OKORAFOR PEACE from BABINGTON MACAUALAY JUNIOR SEMINARY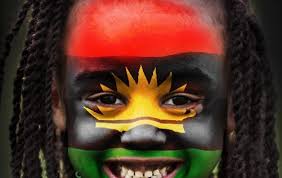 Agony, life was bearable before all this started. I had never known war, never taught of it, never dreamt of it.
I sat down remembering the conversation with mama yesterday. We had been talking about the war. Mama said enough had fallen and she felt Aba was going to remain strong. Nodding, I agreed and wanted to share the same faith as mama.
I shook my head as if my doing that was going to make me forget about the war. I decided to think of my wedding with Chike, of becoming a mother and wife at fifteen years of age. If only the war could stop only for a while all this would have been possible. Umm the war again. I laid down on the mat staring at nothing in particular.
All hail the East! All hail Biafra!!
These were the words I could hear. We were all there, smiling Ojukwu was there smiling on his neatly pressed uniform. "the war is over", he announced "Biafra is victorious, Biafra forever!!" as he said this the drum rolled, the Atilogwu dancers were ready, the youths lifting themselves high, women dancing like boneless humans, children raising the Biafra flag and the military men laughing and raising their wine filled cups high like drunken fools.
The joy was so much and I didn't understand it anymore. I saw Ebere hugging Chidi, she caught my eyes and started walking towards my direction. Although she was my friend I was not ready to start another endless chatter with Ebere.
"Nene, Nene" she said hugging me.
"Ah! Ebere everyone seems so happy what is going on?" I asked hugging her back.
"Haven't you heard that we just defeated the Nigerians?"
"Ehn Ehn".
"Yes oh! Those Hausa's and useless Yoruba's that have not seen the four walls of a school. I still can't believe they imagined themselves winning us".
"Exactly! I'm just happy it's all over" I said trying to end the conversation.
"Who isn't, I just feel for those who lost their lives during the war"
"Umm" was my only reply.
"I even heard Gowon laid down flat for Ojukwu. Ojukwu is planning to promote every soldier that participated in the war".
"Really?" I asked suddenly very interested.
"Yes na, Ojukwu is even planning on building a University at Enugu".
"I thought this war would never end with those good for nothing Hausa's thinking themselves better than us. They thought we would not survive the war. I heard they cannot speak simple go and come" I said.
Ebere laughed "yes oh! My sister. Ojukwu was even nice, he did not kill the Hausa's so much, he just made them run naked to be flogged making sure Gowon headed the team".
I laughed we began to look around. I saw Chidi approaching us.
"It seems like Chidi is coming here for you" I said. She looked up and smiled "let me go Nene, we will talk later" she said hugging me.
"Ok bye my sister"
I was alone again observing everyone around me. Mama was dancing rhythmically to the music, which made me smile. Never had I seen her this happy. Suddenly I felt a hand slip around my waist. Looking up, it was Chike.
"Chike" I said full of joy "I wasn't expecting to see you" "Neither was I" he said coming to my side, he held my hand, everything seemed so perfect.  He was handsome, his youthful feature was very obvious now that he was standing beside me.
"You've grown he said breaking the silence" "hope the marriage plans are not stressing you?" he asked.
"No" I said smiling.
Suddenly the drums stopped, the dancing stopped. Chike straightened everywhere was quiet.
"It's Ojukwu's final and most important speech for the day" Chike said.
"Oh!" was my reply.
"I thank you all for your support" Ojukwu began "The Central Bank of Biafra will be situated at Port Harcourt" everyone clapped, silence again. He continued to talk about his plans for Biafra and Biafrians. He demanded for a moment of silence in honour of the dead and decorated the evening with the new soldiers. It was a very long speech which ended with long live Biafra''
Suddenly, I became afraid, my heart began to beat faster, it suddenly felt like we had not won the war. Like, I was standing between life and death, like the Nigerians were close making us waiting to execute their plan. Chike saw my face, he squeezed my hands, smiled in a reassuring manner, when suddenly I heard "Gbam!"
"Nene, Nene" mama was tapping me. 'Wake up Onitsha has fallen. Another bomb just exploded .Aba is about to fall, get up quickly.'
I stood up quickly "But mama, I thought Biafra was free" "you have been sleeping. There is no time to waste, Chike just died. His town was just invaded" as she said this, she packed all she could.
"I just spoke to Chike" I said.
"You must have been dreaming" she said dragging me" lets quickly go to Umunede.
With so much agony, I carried my bags quickly. Never would I marry Chike, Biafra would never win the war, and we would never be Biafrans forever. Quickly, I took a glance at the almost empty room, closed the door after mama. I allowed the tears to flow freely, Chike was gone, so would Biafra. Biafra's victory was nothing but a dream.
Photo credit: Google